NEW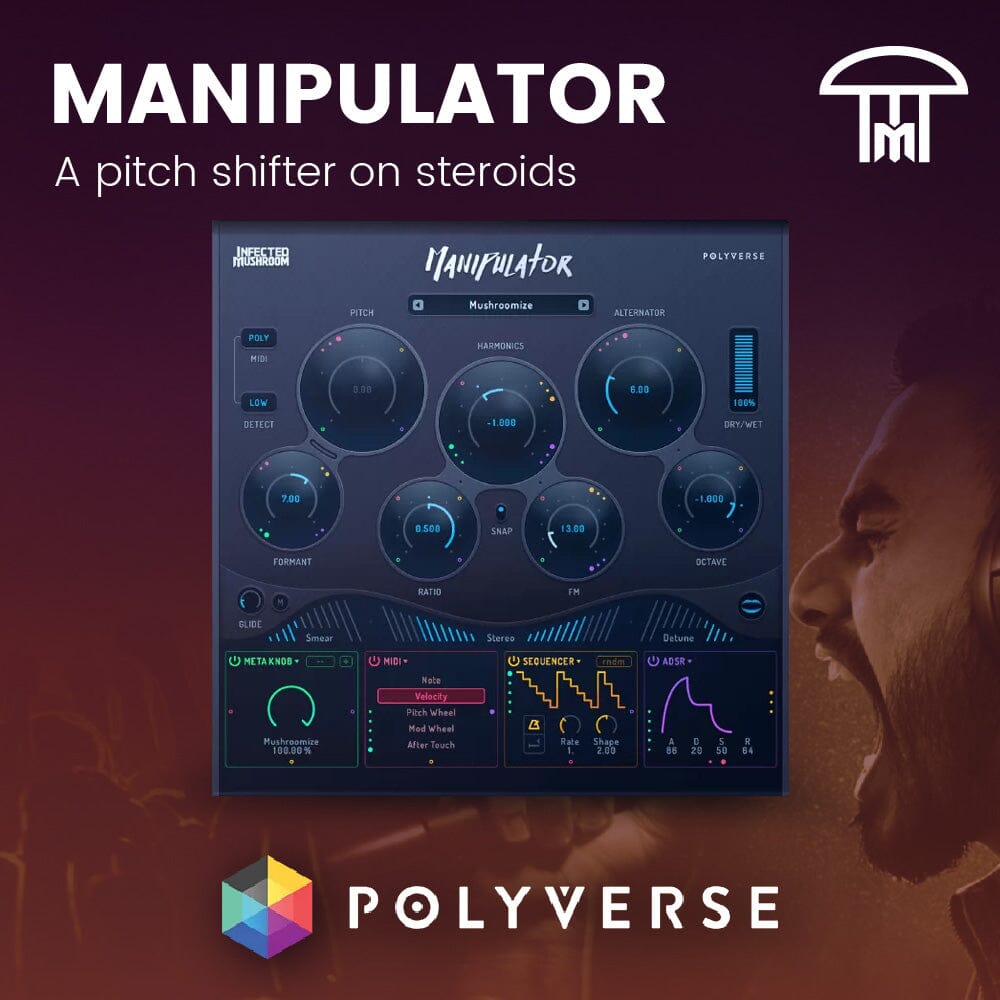 Features & System requirements
A NEW KIND OF VOCAL EFFECTS PROCESSOR
Through unique granular algorithms, Polyverse Manipulator can dramatically alter the timbre and pitch of monophonic audio in new and unexplored ways. From subtly imposing pitch and harmonization, to a full-on sonic mangle that will leave you with a totally new sound, Manipulator plug-in is as versatile as it is creativity-inducing.
WARP AND BEND YOUR VOICE INTO AMAZING NEW SOUNDS
FEATURES

Bend and sculpt your sounds into new ones
Alter timbre and pitch of vocals and instruments
10 Different effects with endless combinations
Change melodies of existing performances
Create instant harmonies with up to 4 polyphonic voices
Extensive modulation capabilities
Real-time, zero-latency processing for live performance
VIRTUALLY ENDLESS MANIPULATION
Equipped with 10 different effects including pitch shifter, formant shifter, harmonics shifter, sound smearing, granular alternator, pseudo stereo and more, Manipulator can take a normal vocal and transform it into a complex, entrancing new sound. Other monophonic and rhythmic sources work particularly well with Manipulator.
ALTER PITCH IN REAL TIME
Like I Wish, Manipulator allows users to accept MIDI data in real time, allowing pitch shifting to be controlled on the fly via MIDI controller. Didn't like the vocal melody in a take? Play it the way you hear it! Manipulator transposes pitch seamlessly and adds a unique texture to incoming audio. Manipulator supports up to 4 polyphonic voices when used with a MIDI input.
INFECTED MUSHROOM'S "VOCODER ON STEROIDS"

Developed in collaboration with iconic electronic music duo Infected Mushroom, Manipulator makes many of Infected's signature vocal production techniques available for all to use. Throughout the many-years development process, Infected used ever-changing prototypes of the plug-in to produce their albums and live performances. This "artistic feedback" process is what allowed Manipulator to naturally morph into the ultimate voice transformer it is today
System Requirements:
Mac OS X 10.12 or higher




Windows 7 or higher