-40%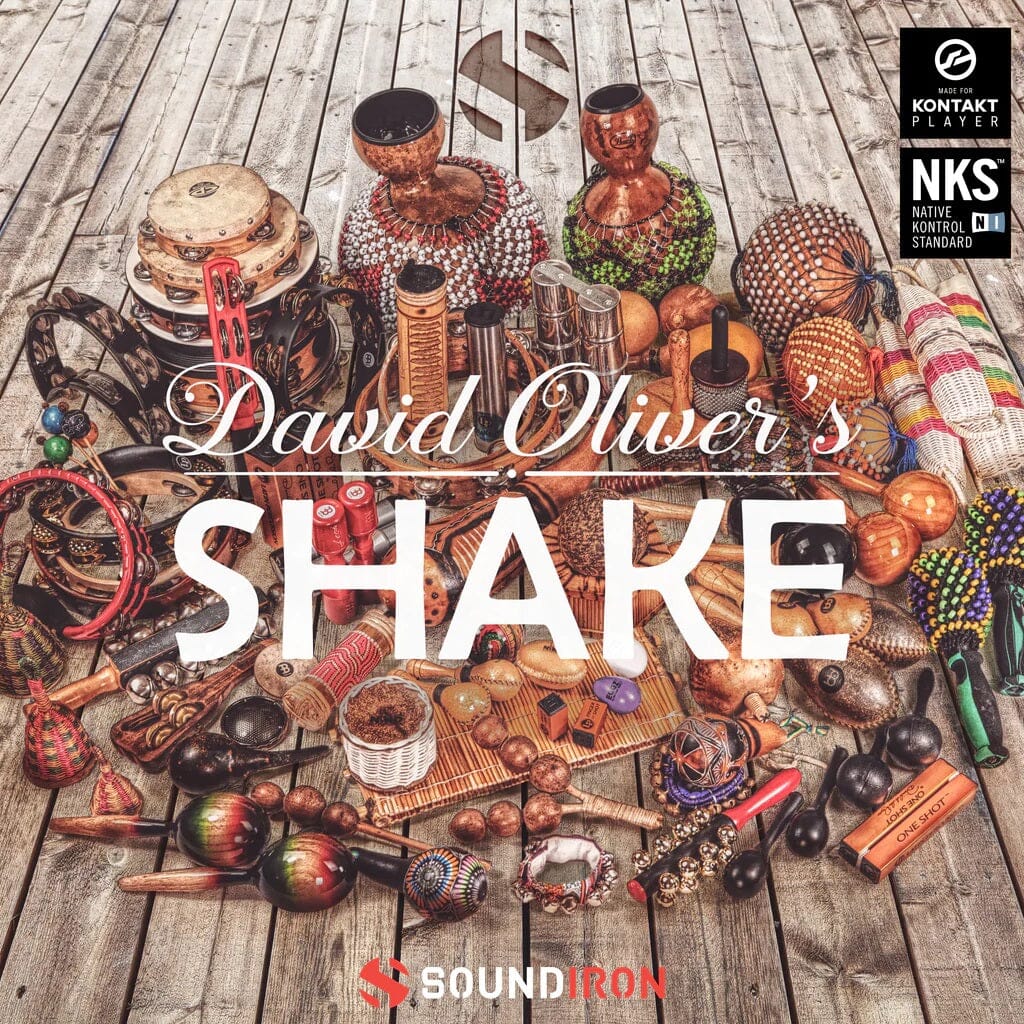 Features & System requirements
Shake - Shaker & rattle percussion library  by Soundiron
 

Works with free Kontakt Player and

"Add Library" Features

Komplete Kontrol Compatible
 Shake is a comprehensive collection of 95 shakers, tambourines, rattles, and bells from all over the world. This deep and stylistically expansive sample library focuses on dynamic live percussion performances by British instrumentalist and media composer David Oliver.

Shake has everything you need for your next composition, including tiny soft plastic and raw hide egg shakers, filled ping pong ball rattle, raw hide, plastic and wooden maracas, small and medium sized instruments made from natural materials such as reeds, seed pods, gourds, vines, rattan, coconuts, nut shells, bamboo, wood and metal. There are also many unique instruments made or improvised by David like the bamboo rainstick shaker, mung bean shaker, cocktail stick shaker and pad box multi effect shaker (a flat wooden box containing ball bearings) and multiple Caxixi combinations. With our intuitive multi-layered modular UI, you'll enjoy complete freedom to mix, layer, affect and customize each sound to your heart's content.


David recorded masses of live performed grooves, fills, flourishes, rolls, and individually sampled hits. Shake includes African, Latin American, Indian, and World instruments with powerfully authentic and spirited recordings that are carefully hand-crafted for effortless use in films, games, and any genre of music that needs shaker.

David meticulously selected this bundle of highly recordable instruments amongst the most sonic and dynamically useful shakers from his grand collection. He recorded them all multiple times, slicing the extended performances into the best 2 bar seamless loops in time signatures of 3-4, 4-4, 5-4 6-8 and 7-8, at intervals of 20bpm from 80bpm to 140bpm and whole sets of maraca patterns in 4-4 with tempos from 160bpm to 280bpm.

The built-in loop browser lets you filter your search by style and instrument keywords, tempo and time signature and you can even star your favorite loops for instant recall. Once you load your loops into the slot grid, you can tweak each loop down to the individual transient slice, with playback direction, slice order, ADSR and custom step automation sequencing for volume, pitch, pan, filter cutoff and resonance parameters that you can freely draw with your mouse.
| | |
| --- | --- |
|    MADE FOR KONTAKT PLAYER | This library has been licensed for use in the free Kontakt Player virtual instrument engine. It can be used in Kontakt Player or the full retail version of Kontakt (version 5.6.8 or later) for VST, AU or AAX instrument plugin formats. You can add this product to the Kontakt "Libraries" browser. It requires online serial number registration through the Native Instruments Service Center app. This library is also fully compatible with Komplete Kontrol and all S-Series Keyboard Controllers by Native Instruments. |
LIBRARY CONTENTS:
The Kontakt interface includes a suite of automation-ready sound-shaping controls to give you total creative flexibility. You have control over swell, attack, release, offset, vibrato, filter, pitch (coarse & fine), articulation switching, cross-fading and layering, and so much more. We've also included 20 unique sound-designed custom FX presets to give you lots of creative options.
This library comes with an adaptable LFO system, with selectable LFO shape, modulation target parameter, speed, intensity, tempo-syncing and fade-in time. You can also apply your choice of 12 lowpass, high-pass and FX filters, with assignable modulation targets such as velocity, modwheel, expression, after-touch, key position and step-sequencer table control. Our customizable arpeggiator offers a velocity table and control over arp direction, timing, swing, randomization and duration. We've included a key and scale lock system to constrain your notes to common scales and keys for easy melodic composition and live performance.
The interface is rounded-out by our modular FX rack panel, with 18 different DSP effect modules that you can assign in any of 10 available slots, in any order that you wish. You'll find classic phaser, flanger, delay, distortion, amp and cab simulators, compressors, EQ, rotator and so much more. The Reverb effect includes our favorite convolution reverb impulse responses, including 99 different rooms, halls, chambers and outdoor environments, plus another 40 custom FX impulses to radically transform the sound and open up whole new worlds of musical possibility. We've added a great bank of FX rack chain factory presets to get you started!
PRODUCT SPECS:
10 Multi-sample NKI instrument banks in Kontakt 6 Player format
11 Loop NKI instruments banks in Kontakt 6 Player format
35 Ambience patches created from the source content
26,504 stereo samples
24-bit, 48 kHz Stereo Lossless NCW Format for Kontakt presets.
7.41 GB Installed (10.1 GB Uncompressed)
Made for the free Kontakt Player (version 6.1+), Komplete Kontrol, all S-Series Keyboards and NKS software and hardware by Native Instruments
Works with the Kontakt "Libraries" browser and Native Access.
System Requirements:
This Powered-By-Kontakt Player Edition is supported by the latest version of the free Kontakt Player (VST, AU, AAX) and the special "Libraries" rack. Windows 7 or higher required for PC. OSX 10.10 or higher required for Mac. Dual Core CPU, 3+ GB System Ram, SATA or SSD hard drive recommended for this library. This software is delivered as a digital download, so a broadband connection is required. All sales are final. Please see our Help Page for download and installation instructions, tutorials and the End User Licensing Agreement before ordering.
DOCUMENTATION
Pdf user manual