-40%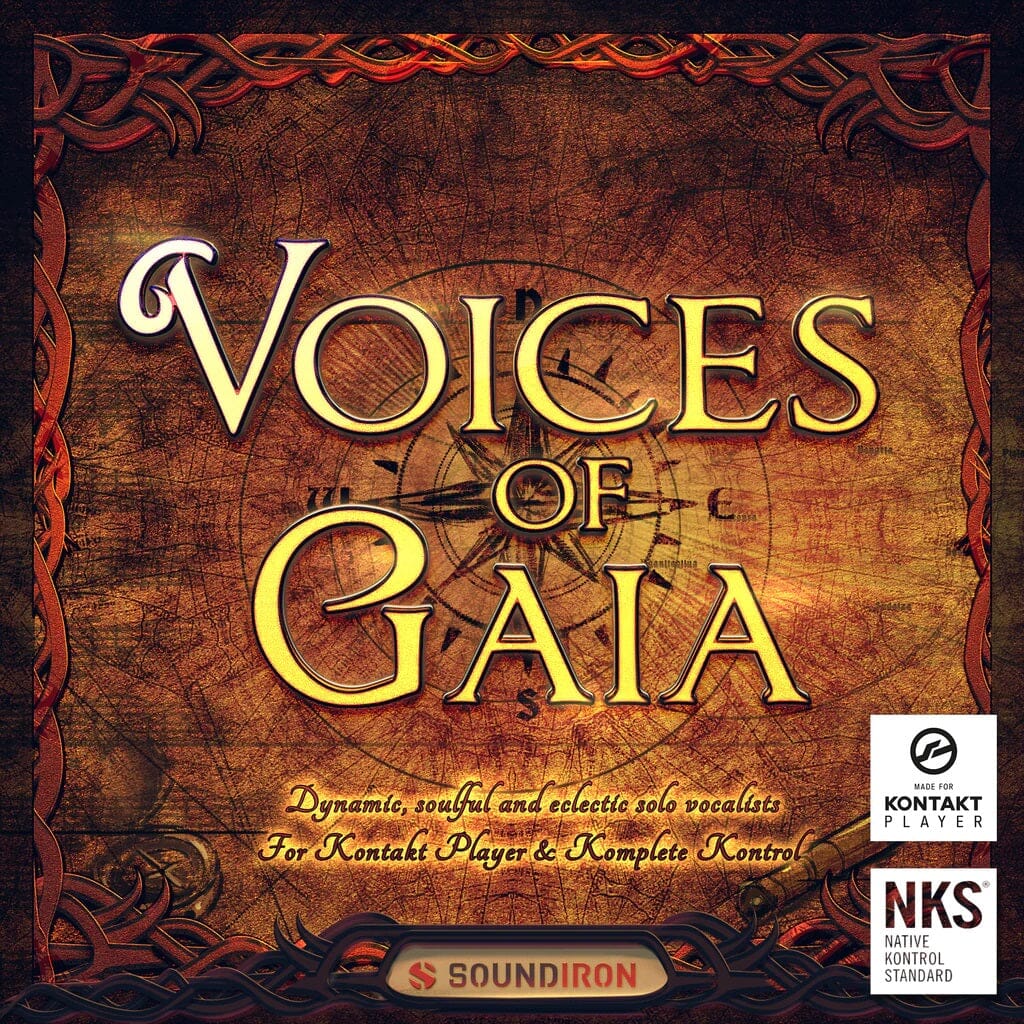 Features & System requirements
Voices Of Gaia Collection - World Solo Vocalists by Soundiron Virtual Instruments
 

Works with free Kontakt Player and

"Add Library" Features

Komplete Kontrol Compatible
Voices Of Gaia is a dynamic and exploratory world, soundtrack and indie solo vocalist collection for Kontakt Player (VST, AU, AAX), featuring 4 outstanding singers ranging from baritone to mezzo-soprano. Each singer includes fundamental chromatic articulations like true legato, sustains, and staccatos as well as thousands of beautiful, dynamics live performance phrases in a variety of keys, tempos and styles. It features the voices of Francesca Genco, Linda Strawberry, Bryan Lane and Michael Peaslee. We recorded in a dry studio environment, using high dynamic range, large-diaphragm Neumann microphones and silent Sound Devices preamps to get maximum detail, clarity, and quality.

Voices Of Gaia includes chromatic true legato, sustains and staccatos for a selection of common vowels. It also comes packed with thousands of beautifully dynamic live performance phrases in various keys and tempos, with real-time step-sequencing, tempo control, start/end editing, category and key selection and more.

You'll also find dozens of uniquely creative sound-designed atmospheric synths, drones and soundscapes that we've re-synthesized from these voices. They're perfect for underscoring, reinforcement and ambient arrangements. Along with our full FX rack panel, they offer you nearly endless creative possibilities.

We captured over 60 hours of chromatic articulations and improvised melodic elements and carefully distilled it down to this unified and flexible virtual instrument library for the Kontakt Player and Komplete Kontrol platforms. With a clean and intuitive interface, outstanding fidelity and nuanced vocal performances, Voices Of Gaia sets a benchmark for soundtrack and world music vocal libraries.
| | |
| --- | --- |
|    MADE FOR KONTAKT PLAYER | This library has been licensed for use in the free Kontakt Player virtual instrument engine. It can be used in Kontakt Player or the full retail version of Kontakt (version 5.6.8 or later) for VST, AU or AAX instrument plugin formats. You can add this product to the Kontakt "Libraries" browser. It requires online serial number registration through the Native Instruments Service Center app. This library is also fully compatible with Komplete Kontrol and all S-Series Keyboard Controllers by Native Instruments. |
LIBRARY CONTENTS:
Overview


Vowel Sustains: Infinite sustains with attack shaping for a variety of common vowel sounds in various styles and dynamics.
Vowel Staccatos: Short notes with round-robin for a variety of common vowel sounds in various styles and dynamics.
Live Performance Phrases: A huge variety of over 9,607 melodic and dynamic passages in a variety of categories, tempos and root keys.
Vocal SFX: Breaths, Laughs, Whispers and other useful vocal sounds to add life to your mix.
Sound-designed Pads and Ambiences: 137 Atmospheric drones, ambiences, synth patches, sonic textures and evolving soundscapes hand-crafted from the raw vocal source. From smooth and celestial to brutally gritty and sinister, we give you a big range of choices that are perfect for layering, underscoring, creative sound design, electronic and hybrid music production.
Francesca

2,982 phrases
New Phrases: 1,202
Legato: Ah (mf), Ee (p), Eh (F), Mm (p), Oh (F), Oo mp
Sustain: Ah (p), Ah (mf), Ah (F), Ay (F), Ee (p), Ee (F), Eh (p), Eh (F), Mm (p), Mm (F), Oh (p), Oh (F), Oo (p), Oo (mf)
New sustains: Ee (p), Eh (p), Eh (F), Oh (p)
Staccato: Ah (p), Ah (F), Ee (p), Ee (F), Eh (p), Eh (F), La (p), La (F), Mm (p), Oh (p), Oh (F), Oo (p), Oo (F)
New staccatos: Ee (p), La (p), La (F), Mm (p), Oh (p)
Strawberry

2,633 phrases
Legato: Ah (F)
Sustain: Ah (F), Mm (p), Oh (F), Oo (p)
Staccato: Ah (F), Mm (p), Oh (F), Oo (p)
Bryn

2,016 phrases
Legato: Ah (F), Mm (p), Oo (p), whistle
Sustain: Ah (F), Mm (p), Oh (mf), Oo (p), Uh (F), Whistle
Staccato: Ah (F), Mm (p), Oh (mf), Oo (p), Uh (F), Whistle
Michael (All new content)

1976 phrases
Legato: Ah (F), Ee (p), Eh (F), Mm (p), Oh (F), Oo (p)
Sustain: Ah (p), Ah (F), Ee (p), Ee (F), Eh (F), Mm (p), Oh (p), Oh (F), Oo (p)
Staccato: Ah (F), Ee (p), Eh (F), Mm (p), Oh (F), Oo (p)
User Interface

Powerful Custom User Interface with CC and host automation support for all major DAWs and Komplete Kontrol hardware and software.
Main performance parameters include features like Swell, Attack, Offset, Release, Legato, Vibrato, Auto-Panning, Phrase Cross-fading, Pitch Shifting, Tempo-Sync/Time-Stretch, Unused sample purging, Articulation Key-Switching and Pitch Shift key-switching.
Ensemble presets include a mixer panel with separate solo/mute, volume, pan and key range controls for each vocalist.
FX Rack equipped with 18 powerful effect modules, with configurable controls and customizable routing and chain saving/loading.
119 integrated custom convolution IR samples in 10 distinct categories (Cathedral, Chamber, Large Room, Small Room, Hallways, Underground, Outdoors, Long FX and Short FX)
PRODUCT SPECS:
18,134 Samples

9.46 GB installed (17+ GB uncompressed wav source)

79 nki Kontakt instrument presets

24 bit / 48kHz losslessly compressed NCW samples

Works with the free Kontakt Player (version 5.6.8+)
System Requirements:
This Powered-By-Kontakt Player Edition is supported by version 6 or later of the free Kontakt Player (VST, AU, AAX) and the special "Libraries" rack. Windows 7 or higher required for PC. OSX 10.12 or higher required for Mac. Dual Core CPU, 3+ GB System Ram, SATA or SSD hard drive recommended for this library. This software is delivered as a digital download, so a broadband connection is required. All sales are final. Please see our Help Page for download and installation instructions, tutorials and the End User Licensing Agreement before ordering.
DOCUMENTATION
Pdf user manual